Follow us on
Friends of WhoFish.org
Handicapped Accessible
Air conditioned
First Baptist Church of Littleton, MA
...Journeying to God's Sacred Beat
Follow us on
Friends of WhoFish.org
Handicapped Accessible
Air Conditioned
Sign up for a daily email containing reflections of this season
New! Lunchtime Pilates class 12:00 - 1:00
Love

God. Love People. Share Jesus.
Worship

10:00

am.
Jul 25

, 2021
Rev. Leah Goodwin will be leading worship by video conference - see bulletin or contact webmaster@fbclittleton.org for joining details
We welcome everyone to join us!
See our article about Common Thursdays
See our new article about our Restoration 2022 project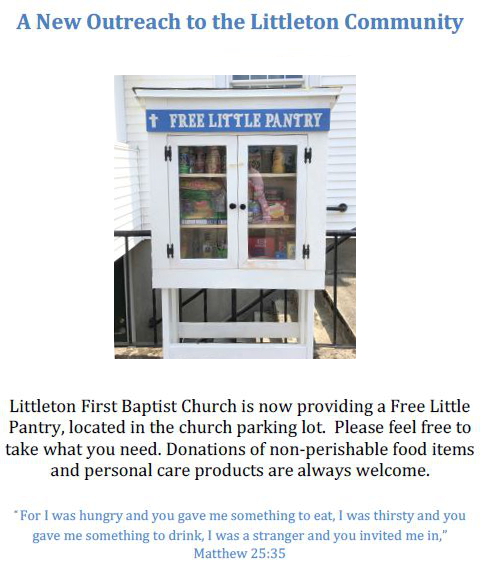 Future Events
Jul 25 - Joint with West Acton (WABC is host)
Jul 31 - 9:00 am - 2:00 pm - Elecronic & Bicycle Recycling
Aug 1 - Joint with WABC - LIVE at Grotonwood wit

h Baptisms!
Aug 8 - Joint with West Acton (WABC is host)
Aug 15 - Joint with West Acton (FBCL is host)
Aug 22 - Joint with West Acton (FBCL is host)
Aug 29 - Joint with West Acton (WABC is host)
Aug 29 - 12-3 pm - Family Fun Day, Nara Park
TBA - Grandparent Support Group